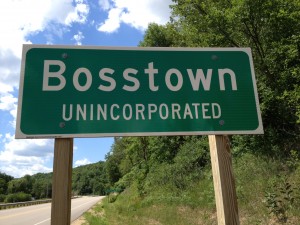 The day I passed through Bosstown, Wisconsin, I had to jump out and take that photo. I knew it could illustrate a number of ideas -- a city of nothing but managers, or maybe a super cool municipality -- or maybe something downright scary. What if "Bosstown" is any place where a bad manager thinks he or she is the most important player on the team, and where everything hinges on his or her moods, preferences and whims.
That's a destructive way to supervise, isn't it? And that leads to the whole topic of management styles. How would you describe yours? More important, how would your employees describe it?
I recently wrote a column called "Just What the Heck IS Management Style, Anyway?" for the Poynter Institute. I did it in the wake of the firing of the editor of the New York Times, ostensibly because of management style issues. My concern is that some bosses don't really understand what that means -- and when they don't, they are likely to get into their own way, as they do their own thing. Their employees will suffer, and so will the boss's reputation and ultimately his or her career.
Management style is a conscious series of choices, built around values and skills. Would you like to read more about it? Just
click on this link
to get to the column and its companion podcast.