Smart organizations are always looking at the big picture -- at industry trends, growth potential, competitive threats and business opportunities. But they are also looking at succession planning. What kind of bench are they building when it comes to leadership?
More and more, I'm being asked to work with emerging leaders in organizations. This week I spent time with this good group from GateHouse Media at its Chicago area headquarters.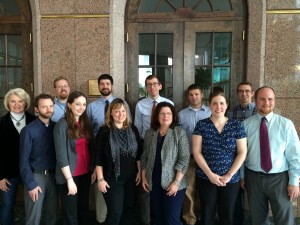 The managers of each of these individuals identified them as people worth grooming for success. Most were already managers, some newer than others, but a few had little supervisory responsibility. They just demonstrated a keen sense of responsibility and concern for the overall success of the organization. That, combined with talent and respect from peers, makes them effective leaders already.
GateHouse calls this program "Rising Stars" -- and shares information about the program with all of its employees. In fact, this poster was highlighted on the company website in advance of the class.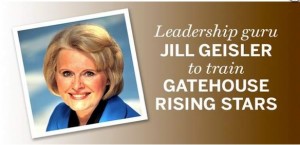 After the class, a GateHouse exec wrote this on the company's website:
April 30, 2014 3:07 p.m. For 10 of GateHouse Media's rising stars, trainer Jill Geisler offered two days of leadership training that was more than just a download of the latest theories of management. The future leaders learned lessons they could apply right when they returned to their newsrooms. Geisler, who is head of Poynter's leadership and management programs, covered a range of topics, from how to give effective feedback, how to coach not fix and keys to having a successful difficult conversation. For any leaders or future leaders, here are some of the lessons that resonated most with the 10 GateHouse participants:

Just click here to read the lessons.

Who are YOUR emerging leaders? How are you helping them become ready for the next step in your organization?