I write this message, knowing it just might offend you -- but it's a risk worth taking. Here goes: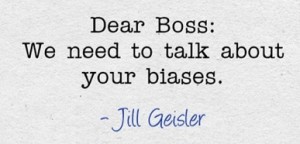 Why talk about biases? Because they are real and we all have them. We're also in denial about them. Research says we think of ourselves as more principled and ethical than we really are. It's human nature.
That's why I wrote a column for Poynter.org that lists six dangerous biases that bedevil managers. I candidly share how a few them affected me and what I learned from them. If you want to build your credibility as a leader, check out
this link for the column and podcast of "Six Dangerous Biases of Bosses."