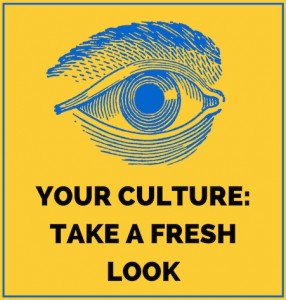 You may have heard variations of the phrase "
culture eats strategy
." Some say it's eaten for breakfast, some for lunch. No matter. The real meaning is that whatever the brilliant initiative you may have dreamed up for your group, it will fail if the culture doesn't sustain it.
Culture trumps all
. It's one of the key things I teach to managers. Right now I'm helping a friend, a leader who's been asked to help others understand how he changed a culture. He's supposed to teach it in a workshop, but needed insights into how to do more than tell some stories. You see, what he's done was so instinctive to him that it's been like breathing. He knows he does it, but can't necessarily describe the intricacies of the infrastructure behind it all.
That's why I helped him break his success down into smaller parts, so others can see the many decisions, the points of entry, the continuous effort and reinforcement in a variety of categories that have to take place to create and sustain a successful culture. The list you see on this page is the framework I gave him, and now he's happily filling in the important details.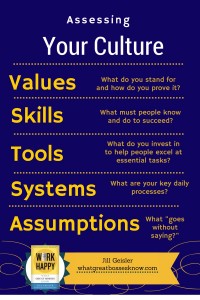 I'm also working with an organization that wants to strengthen its culture in key competitive areas, so I am using the same assessment tool I developed for my friend.
Out of all of aspects of culture, do you know which one I believe is the most overlooked but essential?
It's "
assumptions.
"  I learned that from applying the
ideas of or
ganizational culture expert Edgar Schein
, who says culture is comprised of
artifacts (the things we see), espoused values (the things we talk about) and assumptions
. It's those assumptions, which are like the hidden part of an iceberg, that are the foundation of the culture, and often hardest to identify and change.  Assumptions are beliefs so commonly shared that people don't even talk about them -- they just act on them.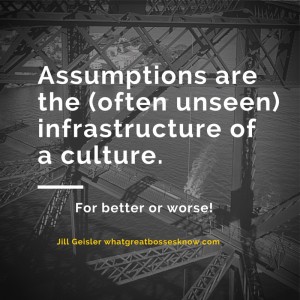 It's what new employees encounter when they think they know an organization -- after all, they heard about its values, goals and products in the hiring and orientation process -- and then discover things that are a way of life, but were never mentioned.  Like: "Never turn down an overtime assignment or you'll be seen as a low performer." Or: "The Finance department is especially powerful here. Line managers tread very carefully around those folks." Or: "Lots of company decisions and relationships evolve on golf courses."
Unless you surface the many assumptions in organizations, ask why they exist and if they still should -- and people are willing to have those conversations -- then culture will remain at status quo.
Feel free to use my infographic as a checklist to assess your organization's culture
. First, ask yourself what it is you WANT your culture to be: entrepreneurial, innovative, customer-centric, social media-friendly, diverse, ethical, collaborative, nimble - you get the picture. Take any of those and then go down the list of cultural elements.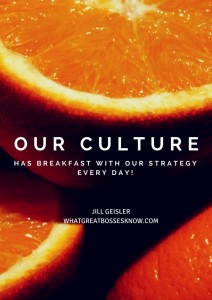 Ask yourself and your team lots of questions about each of those categories.
For an even more effective exercise, put people into small groups to go over the list, then see how consistent the answers are. It will be a good indication of the strength of your culture, for better or worse. It will give you guidance on what you need to do to make certain your strategy and your culture join each other for breakfast every day!