I'm enlisting the help of MY boss, Tugboat, to wish you a wonderful New Year. Why share a picture of my dog, other than for a smile? Well, there's actually a leadership lesson in it. I have found that it is the simplest of human connections - the sharing of family stories, or hobbies, or pet tales, that provide common ground for people to work better together.
When leaders take the time to show more of their whole, authentic selves, it helps people put the things they say and do into better context. Some managers believe in keeping their distance from staff, never revealing much about their personal lives. They think being enigmatic adds to their power. I think it detracts. You need not be everyone's best friend as a boss. That's not possible. But you can be open, human and real.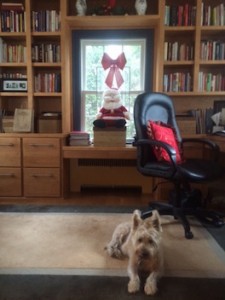 So, from the aging pup who is always nearby when I'm working in my home office -- and from me, may 2015 be your best year yet!