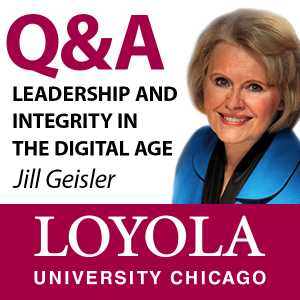 Loyola University Chicago and I have just launched my new podcast for managers and aspiring leaders - focused on leadership, communications and integrity in these fast-paced and changing times.
Q&A: Leadership and Integrity in the Digital Age is available on iTunes U
, the academic side of iTunes.
Click here
and a link will take you to the podcast home page on iTunes U, where you can subscribe. There are 20 episodes as we launch and I will be adding to the collection regularly.
Each podcast tackles one question important to leaders - with practical advice that can be put to use immediately. Here are some of the topics in the collection:
1.
How Will This Podcast Help Me Be a Better Leader?

2. Should Managers Be Facebook Friends with Staff?

3. What Forms of Communication Work Best During Change?

4. Should Leaders Ever Lie?

5. How Can I Build a Personal Brand without Shameless Self-Promotion?

6. How Can We Fight Burnout in an "Always-On" Culture?

7. What Does "Transparency" Really Mean for Leaders?

8. Should I Check the Social Media Posts of Job Candidates?

9. Is "Ability to Multi-Task" a Valuable Skill?

10. What Is the Best Medium for Communicating an Apology?
Want a sample of the podcasts? Here's episode one:
As you may know, my first podcast series: "
What Great Bosses Know
" has been downloaded millions of times. I'm delighted that the leadership at Loyola, especially the Dean of the
School of Communications
, Don Heider, invited me to build on that popular collection with this fresh series. Hope you enjoy it!