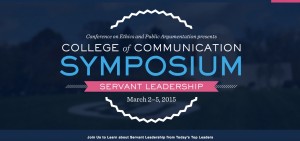 Leadership has often been equated with raw power: the ability to bend others to your will. But leadership at its best is something else entirely. It exists to raise others up, professionally and personally and to contribute positively to society from whatever position we hold.
The late
Robert Greenleaf
, an executive with AT&T, was a champion of what he called "Servant Leadership." He lived it and he taught it, focusing on
these ten principles:
Listening
Empathy
Healing
Awareness
Persuasion
Conceptualization
Foresight
Stewardship
Commitment to the Growth of People
Building Community

During the first week of March,
The
College of Communication at Butler University
in Indianapolis will hold a multi-day
symposium on Servant Leadership
, connecting it to all facets of life and work.
I've been invited to speak on Monday evening, March 2nd. The title of my talk is: "
I'm Your Leader, What Have I Done for You Lately
?" The
event is open to the public
. I'd love to see you there.