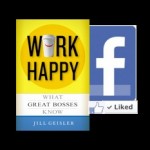 You're invited to contribute to the conversation on the
"WORK HAPPY: WHAT GREAT BOSSES KNOW"
Facebook page.
  I post links to interesting leadership and management articles, as well as my latest columns for Poynter. org. I'd like it to be a gathering place for the thoughtful exchange of ideas about leadership and management, with candor, courtesy and civility as our watchwords. If you're not inclined to post publicly but would like to send me a private message, the site is set up so you can do that as well.   Hope you "like" the page and join in the community and conversation.