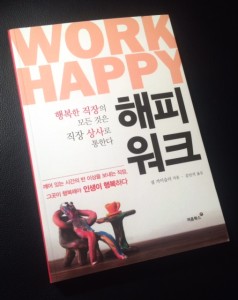 Here it is - freshly delivered to me from my publisher...the Korean language edition of Work Happy: What Great Bosses Know. Take a look at the clever illustration at the bottom of the cover. Now THAT's a happy looking employee, isn't it? Or maybe it's a manager who just got promoted because of great leadership skills. It's such a delight to know that the lessons in the book are reaching aspiring great bosses worldwide.
The Korean edition comes on the heels of the Portuguese version, released in Brazil.
So, whatever language you speak, just remember that the most important thing leaders do is help others succeed.