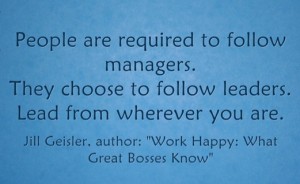 People sometimes tell me they hold back on taking initiative or responsibility beyond their current role, because they don't want to overstep their boundaries. I respect that concern. I also think people can be overly cautious and talk themselves out of acts of leadership.
There's a big different between taking over, butting in, grabbing power -- and simply stepping up. That's what leaders do. They step up. Carefully. Collaboratively. Considerately. I think there are four ways you can be seen as a leader, no matter what your title.
I lay out those four in a column and podcast just published on Poynter.org. A simple
click on this link
will take you right to the column. Hope you enjoy -- and keep leading!