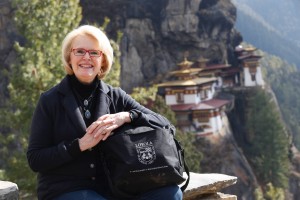 Welcome to the
Kingdom of Bhutan
! It's where I had one of my most fascinating teaching experiences. Bhutan has only been a democracy since 2008. Television came to Bhutan in 1999! So, you can imagine the interest media organizations have in developing strong. smart and ethical leaders in the field of communication.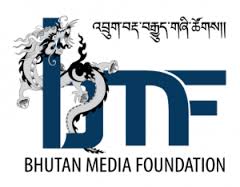 The Bhutan Media Foundation invited me to come to the Kingdom and work with editors and managers from print, broadcast and online. This would be pro-bono teaching in support of journalism in a democracy - so my own leaders at Loyola University Chicago embraced the idea wholeheartedly. Social justice is at the core of all of our teaching and this was a perfect fit.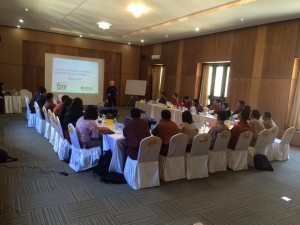 The multi-day seminar was held in the city of Paro in December of 2015. As you can see, it was a full house. We covered topics from change management to motivation to investigative journalism and ethical decision-making. I learned that some things are universal: Managers are hungry to learn how to help people improve their skills and succeed in the workplace.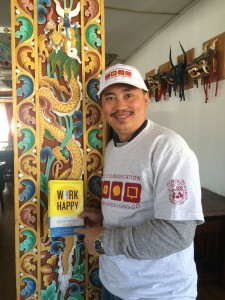 You may have heard that Bhutan is known for its belief in the importance of
Gross National Happiness
as the best measure of the country's health and vigor. What better fit for a teacher who's written a book called "Work Happy." This is Dawa Penjor, executive director of the Bhutan Media Foundation, who donned a Loyola cap and t-shirt I brought for him as a gift, along with a copy of my book. He has a passion for helping grow the quality of journalism in his country.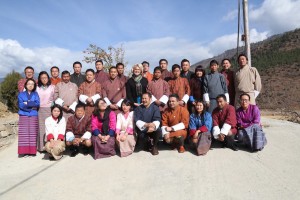 We took two official class pictures. I had to laugh when I saw the first one. Apparently, the great group members thought they should look professional and serious for the photo. I scanned all the faces and told them they looked like we were in the land of Gross National Grouchiness! It certainly wasn't reflective of their great sense of humor and fun in our sessions. So I suggested we do another - and they feel free to be themselves!
This is the result. And I must say it is a far more accurate depiction of our experience together! You may note that the class members are all wearing traditional Bhutanese dress. It's a requirement in Bhutan that for any important or business-related activity that men wear the "gho" and women wear the "kira."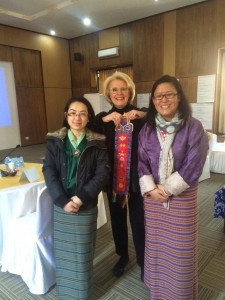 These are my friends Peky and Sonam, who surprised me with a hand-crafted wall decoration. Each of the women is wearing the kira - which consists of a bright silky jacket and long woven skirt. The kira come in a rainbow of jewel tone tops and patterned skirts, adding to the great colorful nature of the country.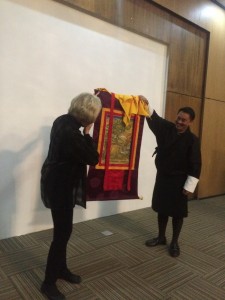 In this photo, taken at the end of the seminar, Dawa Penjor presented me with a wonderful treasure. It is a silk wall hanging of "
The Four Harmonious Friends
." The animals depicted are part of a time-honored parable of cooperation that is taught in Bhutan and is often depicted on the walls of public places. It will now become a part of my office at the Loyola Chicago School of Communication!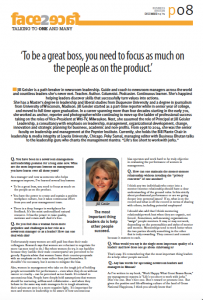 One of my seminar participants took the opportunity to interview me for the business publication at which she is an editor, "Business Bhutan." I think it is interesting that the management questions I'm asked are very much the same, whether we're in the United States or abroad. I really believe that leadership is a universal language we all want to perfect!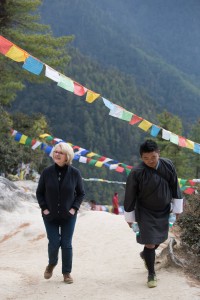 After the seminar, I took the hike of a lifetime: the trek to the most venerated spot in Bhutan. It is the
Taktsan monastery
(also known as "The Tiger's Nest") built into the side of a mountain, at an elevation of about 9,500 feet above sea level. The hike, which took us 3 hours each way, goes past countless colorful prayer flags placed respectfully by Buddhist citizens.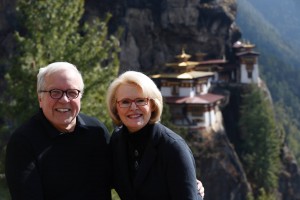 It's safe to say that my husband and I were tired -- but joyful to have had this great opportunity to see such a wonderful monument to both extraordinary architecture and enduring faith in Bhutan. If you ever have the opportunity to visit this tiny beautiful country, by all means do so!