Fourteen years ago, I developed the Poynter Leadership Academy, a large-scale program that draws high-potential leaders from across the world to the Poynter Institute. It's our most ambitious leadership program, which calls on the talents of nearly every faculty member.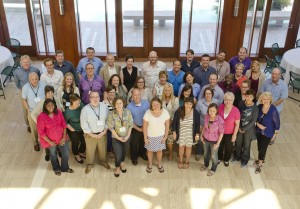 This year's group was just a delight. During the week, they received feedback on their leadership skills and challenges, studied performance management, motivation, leading creative people, coaching, time management, diversity, tough conversations, critical thinking and the effective use of using social media.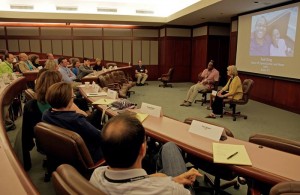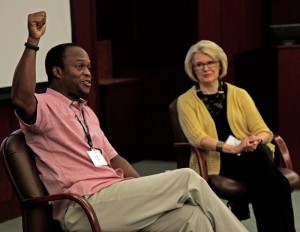 Each Academy features a keynote called The Naughton Lecture, named in honor of Poynter's late, beloved president Jim Naughton.  This year's speaker was Rob King, senior VP of ESPN SportsCenter and News.  As you can see from these photos captured by my colleague, Kenny Irby, Rob is a dynamic speaker -- and leader.
Rob shared his
personal journey as a leader
as well as a parent. He pointed out the number of times he simply had to take a leap of faith that everything would turn out all right, even in the face of uncertainty. Rob's upbeat message about optimism and self-confidence in the face of change and challenge truly resonated with the class.