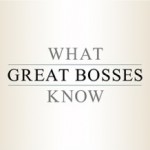 I often hear from people that I drive to work with them or go jogging with them -- or at least my voice does. That's because they've downloaded our free "What Great Bosses Know" Poynter podcasts from iTunesU.
Click on this link
and you can do that, too.
Here's another way to hear them. The collection is also housed on a site called Podomatic. We use that to embed the podcasts in my
leadership columns on Poynter.org
.
Give a listen:
If you have a topic you'd like me to address in a future podcast and column, just let me know!