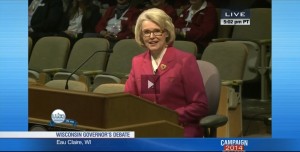 How's this for an assignment? On Friday October 10, I served as moderator for the Wisconsin gubernatorial debate between incumbent Governor Scott Walker and challenger Mary Burke. It was held in Eau Claire, Wisconsin. It was an honor to be invited to help guide this historic event. The race is being closely watched, in my very divided home state. The debate was carried on more than 100 TV and radio stations in Wisconsin and carried nationally on C-Span.
Here's a link to C-Span's broadcast of the even
t, in case you'd like to see it for yourself.
Comments Off

on Moderating a Gubernatorial Debate