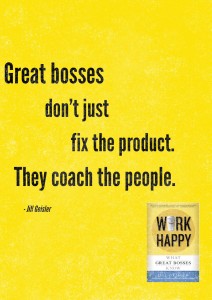 One of the most vexing issues managers face is how to keep quality high. It's key to their job. It's so important that many supervisors make a big mistake: they devote large amounts of their time to
fixing
the work of their employees. When something needs to be better, they roll up their sleeves and re-do the work.
They are "fixers."
I know all about fixers. I was a hard core fixer myself, until I learned how damaging it was to my team and to me. That's why one of the most valuable -- and appreciated -- things I teach in my workshops is how to be a coach instead of a fixer. Believe me, if I could learn it, so can you.
Why managers fix, and what to do about it, is the subject of my latest column on Poynter.org. Just click on this link to read: "
5 Reasons Managers are Addicted to Fixing -- and How to Recover
."