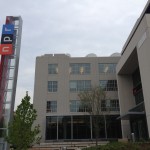 I'm in Washington, DC this week, teaching workshops at NPR. Folks here have just moved into a beautiful new building. It's not just a state-of-the-art workspace. It's also designed to bring many creative people together for better opportunities to think and collaborate.
That's important here, for sure, because public radio is built on ideas. But every good organization wants to capture and cultivate good proposals, plans, thoughts, suggestions. It works best when leaders understand how to cultivate great ideas. How to make it easy and effective to pitch, catch and coach them.
In preparation for the teaching, I immersed myself in a good amount of literature about brainstorming, collaboration and innovation.  I turned that into a column and podcast for Poynter.org, titled "
Don't Be an Idea Killer: Ten Tips for Cultivating Good Ideas.
" Here's how I begin:
Some of our best ideas come when we're taking a break from concentration. At least, that's what recent research says. Since the concept for this column coalesced while I was sweating my way through a Zumba class, I'm prepared to believe it.

I'd been doing a lot of reading about the cultivation of ideas — especially the leader's role in brainstorming, creativity and innovation. I collected insights and advice from all sorts of experts to use in my teaching. I wanted to craft a column, too, but kept debating with myself about the framing.

Not surprisingly, my breakthrough came when I stopped fretting and shifted my focus to enjoying some music and keeping pace with the class leader.