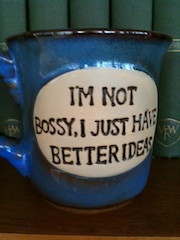 Funny mug, right?  I found it at the dollar store and bought it to remind myself how easy it is for managers to persuade themselves they're right.  But often, they're not.  They find out through evaluations, conversations -- and sometimes confrontations -- that they're doing something wrong.
That's when managers who aspire to be great bosses do something important: they act on the feedback. They take the steps necessary to fix a problem they caused or a behavior that's getting in their way.
Those steps are the topic of my latest column on Poynter.org:
When Bosses Fumble: Five Steps for Rebuilding Your Reputation.
Just
click on this link to read it
.
And, for your listening pleasure, here's my companion podcast for the column: