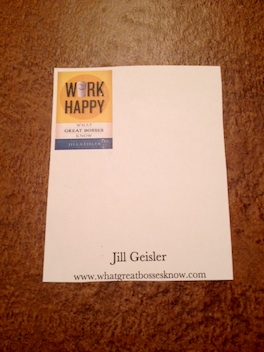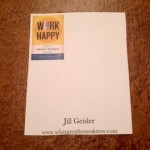 THE CHALLENGE
: People have been asking me about how to get autographed copies of
"WORK HAPPY: WHAT GREAT BOSSES KNOW" after its June 5th publication.  I love signed books myself,  and I really want to sign books for folks, wherever they are and wherever they may have purchased the book.  But -- shipping books back and forth seemed to be a pretty cumbersome endeavor.  I was determined to come up with a practical way to do this.  And then I thought of it... T
HE SOLUTION
:  I came up with an idea I hope will work well for anyone who has purchased a book, no matter where they might be:
Customized bookplates.
"Bookplate" is really just a fancy name for a sticker -- something that's applied to the inside cover to identify the book's owner. I've had custom bookplates made for "WORK HAPPY: WHAT GREAT BOSSES KNOW
."
If readers would like to have their book signed, all they have to do is send me an email request.  I will sign and send a bookplate via good old snail mail.
The bookplate instructions are simple:
Address your request to jgeisler@poynter.org
Put "Bookplate Request" in the subject line
Tell me the name of the person(s) for whom I'll be signing a bookplate
Include any other info you might want me to include in the signature (i.e., "Congratulations on your promotion" or "To an already great boss!")
Include your mailing address
Be patient, please, since I'm often on the road teaching -- but I'll respond as quickly as I can!
Thanks! Jill