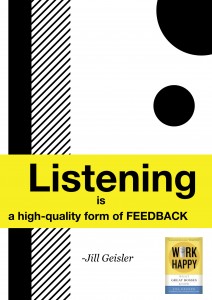 I love teaching about feedback, because it is integral to effective leadership and to performance management. We usually think of feedback as the messages managers share, positive and negative, and the way they are delivered.
That's true, but it's only part of the feedback story. I think
listening
is an especially powerful form of feedback. How does a person feel when he or she is truly listened to? When someone in power takes time to take in the thoughts and feelings of others? It's an important way to say "You matter." "Your ideas are valued." "I understand."
And here's the bonus: Listening costs us nothing, but can have a great return on investment.