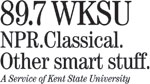 Are you an arrogant boss? What if you work for one?  That was the core of the conversation on the Labor Day edition of the "Regina Brett Show" on WKSU, the Ohio NPR station.  I appeared on the program with Professor Stanley Silverman of the University of Akron, who has recently published research on the problems caused by arrogant bosses.  I was asked about a good number of aspects of "WORK HAPPY: WHAT GREAT BOSSES KNOW" -- including the "Evil Twin" problem many bosses face.  We also discussed the "20 Questions about Your Boss" exercise in the book that helps people do a better job of managing their bosses, both the great ones and those who, unfortunately, rank high on Dr. Silverman's arrogance scale. 
Here is a link to the program's web page
, where you can hear or download the program.