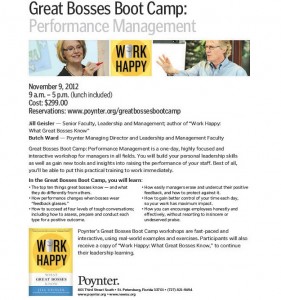 Want to boost your team's performance?   Spend a great day at Poynter for our Great Bosses Boot Camp: Performance Management.  My colleague Butch Ward and I will help you learn the secrets to providing the kind of feedback -- both positive and negative -- that employees say is lacking in most workplaces today. Your day at Poynter will be one of the most interactive, fun and practical learning experiences of your management career.  You'll learn skills you will be able to put to work immediately. You can register for this program online.  Here's
a link to information and registration.
See you in November!