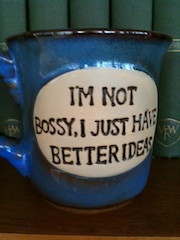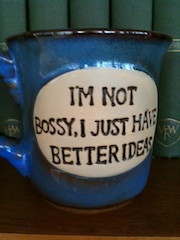 The easiest way to define a micromanager is "an overly bossy boss."  A micromanager can take the joy out of work and kill motivation of the staff. For employees, the boss acts like the legend on this coffee mug -- someone who is convinced he or she is the keeper of all great ideas. That's why one of the greatest challenges for a manager is figuring out when vigilance about quality and  the time-honored "keeping a hand in things" -- crosses the line into serious and problematic micromanagement. And it's why understanding motivation is so important for bosses who want to have both quality, a connection to the work, and employees who are really engaged. As I'm writing a book about "WHAT GREAT BOSSES KNOW," I am paying special attention to research in the field of motivation, and I'll share it.  Meanwhile,
here is a link to one of my past columns
on motivation on Poynter.org.  I hope it's helpful to you. Now I have to get back to writing the book!