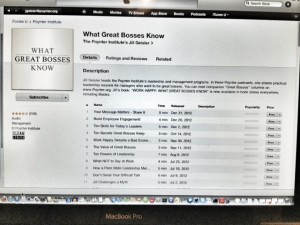 "WORK HAPPY: WHAT GREAT BOSSES KNOW" is a book that had its roots in a podcast.  That podcast, "
What Great Bosses Know
," is available on iTunes U, which is the learning center on iTunes.  All sorts of colleges, universities and academics post courses and collections there.
Apparently lots of people have found "What Great Bosses Know," according to the weekly download reports for 2012 that come to us from ITunes.
Because it's usually among the top ten podcast collections, I knew it had a following.  But the final tally for 2102 was remarkable. Are you ready for the total?  Drum roll, please:
3,187,324!
Yes, that's three million, one hundred eighty-seven thousand, three hundred and twenty-four.  It amazes me, too.  But it's a tribute to the interest worldwide in becoming a better leader and manager.  Many people who've purchased "WORK HAPPY: WHAT GREAT BOSSES KNOW" discovered it through the podcasts.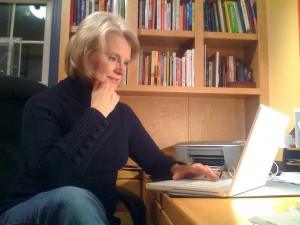 The production isn't sophisticated.  My studio is wherever my laptop and I happen to be.  This photo is from my home office, but I've recorded in many locations, including on the road when I'm away teaching or consulting.
The podcasts are brief, practical and conversational.  People tell me they listen to them while driving to work and even while exercising.  Perhaps the real secret to their popularity, though, is that they are FREE!
If you'd like to be among the 2013 downloaders, just click on this link and it will take you to iTunes U and the "What Great Bosses Know" podcasts.  And of course, if you like what you learn by listening, just think what "WORK HAPPY: WHAT GREAT BOSSES KNOW" -- with its greater depth -- could do for you!