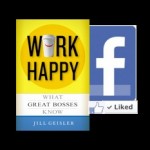 "WORK HAPPY: WHAT GREAT BOSSES KNOW" now has a Facebook Page. Sarah Reck, web publicist at Hachette did a terrific job setting up the page.  This a great way to augment the site you are currently reading -- because it provides an easy opportunity for me to connect with you. I'd really like the site to be a gathering place for good ideas on leadership, robust and civil conversations about issues managers and employees face, and a chance to chat with readers. I'll use the site to post information about book events and adventures and to invite your suggestions for leadership and management topics for my Poynter.org columns and podcasts.  If you like that idea,
then click on this link
, which will take you to the page for "WORK HAPPY: WHAT GREAT BOSSES KNOW" -- where I hope you "like" what you see.