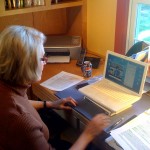 There's an old expression: "Tell them what you're going to tell 'em.  Tell 'em.  Then tell 'em what you told 'em."  The thought is that a speaker needs to be perfectly clear as a communicator. It's especially important for bosses. But  how much communication is too much?   After a verbal request or instruction, should you send a memo or two, make a follow-up call, send a text?
New research reported by the Harvard Business School
finds that redundant communication is especially important for managers who are working on collaborative projects -- where they don't have supervisory authority over all of the employees. Here's what one of the researchers, Tsedal B. Neelye says:
Managers lacking direct power, however, assumed nothing. They proactively used redundant communication to convince team members that their project was under threat and that they needed to be part of the solution. "Those without power were much more strategic, much more thoughtful about greasing the wheel" to get buy-in and to reinforce the urgency of the previous communication, Neeley says. "Managers without authority enroll others to make sense of an issue together and go for a solution."
It turns out that even among powerful managers, clarity is nice -- but redundancy in communication seems to get the job done best.  Let me say that again: redundancy is valuable!