I sometimes hear from people who tell me I drive to work with them, or join them on their daily jogs. These are people who have downloaded the free "What Great Bosses Know" podcasts from iTunes U.  I began posting these short lessons for managers in January of 2010. Now, the library has grown to 120 different topics.  According to Apple, the "What Great Bosses Know" podcasts have had some 8 million downloads, which really amazes me.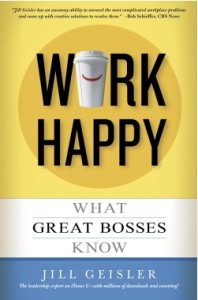 It was the popularity of the podcasts that led me to write the book, "WORK HAPPY: WHAT GREAT BOSSES KNOW", so I could further develop the teaching, and provide quizzes, self-diagnostics and deeper content and context.  If you look at the book's
Facebook page
, you will see comments from people who started their "great bosses" journey by listening to the podcasts.  They then moved on to the book.  Many of these are managers who are really committed to growing their leadership and management skills, often working in organizations that haven't provided training for them.  Others have found the podcasts and the book to be a great addition to their training -- a kind of vitamin that keeps them healthy!  They also tell me they can hear my voice when they read the book.  That always makes me smile.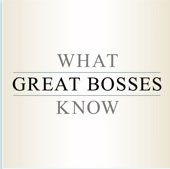 This is the logo you'll see on iTunes U when you look for the podcasts. If you'd like to download "What Great Bosses Know" podcast library, it's pretty easy. Just
click on this link
and it will take you to directly there. I'd love your feedback.  Feel free to post it here or get a conversation started on Facebook.