Listeners across Canada tuned in to the the CBC's popular show, "Cross Country Checkup" to hear host Suhana Meharchand and I discuss best and worst bosses.  I provided advice to people with challenging bosses and discussed how today's managers can become much more effective.  One key we discussed is the matter of trust -- and how great bosses build that trust with employees.  When that exists, staffers are more open to trying new things, feel more motivated and don't want to let the boss down. If you'd like to listen to the program,
here's a link that will take you to the CBC site
, where you can tune in now or download  the show for future listening.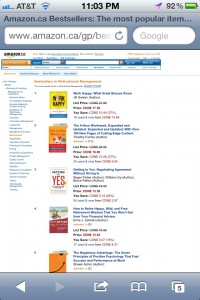 I know there must have been quite an audience the day of the broadcast, because "WORK HAPPY: WHAT GREAT BOSSES KNOW" jumped into the Top 100 books on Amazon's Canada site, amazon.ca, shortly after the program!  It also hit the top of the business/motivational management chart. Thanks, neighbors!