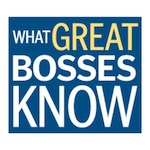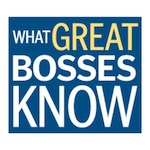 We've now posted
100 Great Bosses podcasts to iTunesU!
Since early last year, we've had over 5 million downloads. That number amazes me!  To celebrate podcast number 100 (and the pending book "WORK HAPPY: WHAT GREAT BOSSES KNOW"), I've written a series of columns for Poynter.org, called "100 Great Boss Ideas."  We posted 25 ideas each day for four days.  I hope you enjoy the tips and thoughts.  Most of all, these columns prompt some good discussions in your workplace.
Here's a link to the first 25 ideas.
Here's a link to
ideas #26-50.
Here's the link to
ideas #51-75
. Finally, here are
ideas #76-100.
But don't think if you've read the 100 ideas, you've read the book. No way! I'm happy to tell you the book will contain much more -- including self-diagnostics and quizzes to help you both assess your current skills and strengths as a leader, as well as information on how to get the best from your staff.  Think of it as a workshop in a book -- one that's fun, interactive -- and above all, practical and truly helpful.