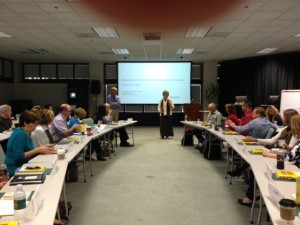 This is how it looked in the Barnes Pavilion of the Poynter Institute in St. Pete as we welcomed managers from all professions to the November Great Bosses Boot Camp. They came from a fascinating array of disciplines: construction, IT solutions and security, medicine, education, financial services, real estate management, sales, public transportation, media -- and even leaders of an important non-profit training guide dogs for the blind!
What they shared was a genuine passion for getting better at the tricky art of performance management: how to get the best out of their teams, how to keep them engaged at work -- and how to build strong positive cultures in the process. We packed a lot into the day -- from feedback (positive and negative) to coaching to time management/priority setting and the secrets of top leaders! The group took home certificates of completion, along with a copy of this class picture: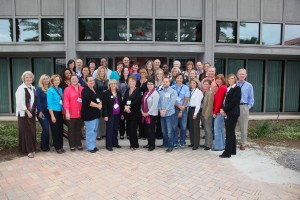 Sincere thanks to all of you for your wonderful evaluations of the class. We take that feedback and use it to improve the next program we offer. We plan to offer this program again in 2014!