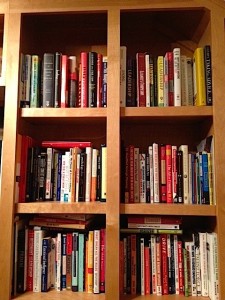 You're looking at just a few of the bookshelves in my home office.  I've filled them up with books I've collected and read on all sorts of management and leadership topics.  I prefer books that are research-based, rather than first-person accounts of "How I Did a Marvelous Management Thing" or parable-type books that use imaginary tales to teach leadership lessons.  I want to be able to state definitively that a certain idea, approach or concept is likely to work -- because there's been a rigorous test of the theory and someone is willing to stake an academic reputation on its validity. I drew upon lots of that research as I wrote "WORK HAPPY: WHAT GREAT BOSSES KNOW."
I'm confident it will be one of the reasons people trust it to help guide them in the work they do as managers and leaders.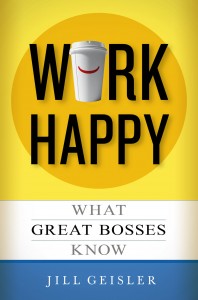 "WORK HAPPY: WHAT GREAT BOSSES KNOW"
will be published in June of 2012.  Between writing and teaching, I didn't have as much time as I would have liked to devour more of other authors' works.  So, after submitting the manuscript, I finally had some time to
read
new books, too. In a recent column for Poynter.org, I listed recent publications I really like and would recommend for people who wanted to buy good books for bosses. 
Here's a link to that column and podcast.
By the way, if you'd like to listen to all of the "What Great Bosses Know" podcasts I developed over the past two years, you can
download one or all of them, free of charge, on iTunes U.

They've consistently ranked in the top ten most popular on the site, and we've had millions of downloads, according to Apple.  I think it's because they are short (3-5 minutes) and always practical.  I've heard from aspiring great bosses around the world who have turned to them as a form of training or to freshen their skills and challenge their thinking. I hope you enjoy the books I recommend, and perhaps you'll add "WORK HAPPY: WHAT GREAT BOSSES KNOW" to your library when it hits the book stores in June.