Your business is facing some ups and downs -- maybe more downs than ups.
Your job as a manager is to navigate those rocky times, protecting the health of the operation while taking care of your staff. That's a real challenge facing many of today's managers.
It's certainly the case in the world of journalism, which is why the editor of the Columbia Journalism Review made it the focus of my column this month.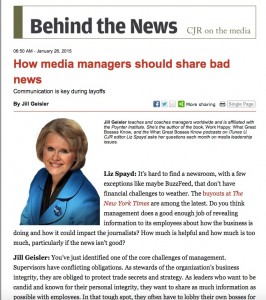 She asked me some good questions about how much information managers should share with staff.
As you know, that's a complex issue. Share too little and you are unfairly keeping them in the dark. Say too much and you may reveal sensitive business strategy or trade secrets. So,
in this article
, I lay out what managers should do and say.
I also remind managers about the impact their mood and emotions can have on a team - and even the quality of the work your people produce.
Hope it's helpful for you - in good times and bad.