SIGNED BOOKPLATES: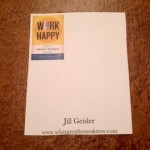 Some readers enjoy having a signed copy of a book.  That's not always easy, if our paths don't cross in person.  In response to requests from around the world for signings, I've come up with what I hope will be an efficient solution:
customized, signed bookplates
.  (Bookplate is a fancier word for "sticker.") If you've purchased
"WORK HAPPY: WHAT GREAT BOSSES KNOW" 
and would like to have me personalize it for you or for someone to whom you are giving it as a gift, contact me by email: jgeisler@poynter.org
Please include in your message:
The name of the person to whom I should address the salutation on the bookplate.
Anything special you might want included in the message, especially if you are giving "Work Happy: What Great Bosses Know" as a gift.
Your mailing address, since I will send it to you via good old-fashioned snail mail!