In "WORK HAPPY: WHAT GREAT BOSSES KNOW", I explore the impact of the words managers say.  Sometimes bosses don't even realize how powerful an offhanded comment can be.   Your words can make someone's day or persuade them they are worthless.  You can make rules you never knew you made.  You can also do damage to your own reputation if you don't truly think before you speak or don't notice your employees' reactions to things you say.  There are also things you shouldn't say at work, beyond the obvious ones your HR department warns you about.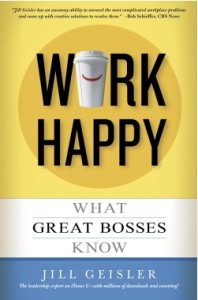 I recently was asked by Forbes. com to write about things you shouldn't say.  These the far more common things that managers proclaim -- that can keep people from being happy at work.  They can also get in the way of a manager's success, perhaps without you knowing it. Here's a link to the Forbes.com column called "T
alking Yourself Into Trouble, Boss: Things Not to Say at Work
."